You open the door to your attic and cardboard boxes spill out from the stairs. The upstairs is getting tighter and tighter, and the space feels like it's shrinking every day. From the basement to the attic, you have things you just can't throw away. But it's starting to pile up. You try to clean house, but you're just running out of space. Maybe it's time to downsize. Maybe it's time to move. Or maybe it's time to get a storage unit that works for you. The moment finally hits you: the overflowing attic just isn't going to cut it anymore.

It's hard to part ways with your belongings—the good news is: you don't have to. It's not just "stuff." It's important things like boxes of memories and family furniture someone could use in the future. It feels wrong getting rid of it all. You need somewhere to safely keep all your items without having to worry about damage or theft.

Your need for self-storage has brought you here, and you're in the right place. Packing up your things and putting them in a storage unit can sound like a hassle to deal with. Where do you even begin? We're here to help and answer all your questions.
What does self-storage mean?

Self-storage is short for "self-service storage." Rather than having an estate sale or living in a completely cluttered house, you're able to move your things to a safe location. Storage facilities rent out space to tenants (you) to store your items on a month-to-month basis. It's a cheap and safe alternative to throwing away or selling the things you want to keep. In addition, using a storage unit is perfect for times of transition, like moving or college.

It doesn't matter if you need to store a little or a lot, for a short time or an extended period, self-storage can meet all of your needs. You can pay by the month, come and go as you please, and stop using the storage unit whenever you want.
Read about our climate controlled units:

 

It sounds simple at first.

"I'll just get a storage unit for a few months and put what I need inside…"
but then after some research, you see that the options are endless.

"What insurance do I use? What if I rent a space but actually need something bigger? What if I rent a space that's too big and I waste money?"

If you're new to self-storage, we provide a tool to help you find the right thing you need. We're here to make the process as simple as possible.

Our size guide walks you through 6 different size options for storage units: tiny, small, medium, large, huge, and gigantic.

Each space shows you the exact metrics offered and an example of what can fit inside. Sizes can range anywhere from storing just a few boxes to storing an entire truck… and then even more in the same storage unit.
 
How Secure are my belongings?

Your belongings are behind way more than just a lock and key. It's important to make sure belongings in a storage facility are safe and secure on multiple levels. We provide layers and layers of security for our tenants.

Camera Surveillance
Our cameras monitor and record everything on the facility. In the rare event someone makes an attempt to go after your things, we have safety precautions in place. We use camera security and take it seriously.
Well-Lit
Outdoor storage facilities need lots of light. We use LED lights throughout our facilities to make sure the area is bright and accessible for you, no matter when you need to access the facility.

Gate Entry
Our storage facilities are not open for anyone to drive in and get access. Only permitted tenants have access to the facility with their own personal code through gated access.
Safety is not just a perk or benefit of using our storage units. It is a necessity and we do our best to provide it. 



 
What are common self-storage unit sizes?

Our storage units come in a range of sizes. Some sizes can store and hold a few boxes while other sizes can hold a large truck and then more!

We've listed different sizes and explained the estimated size: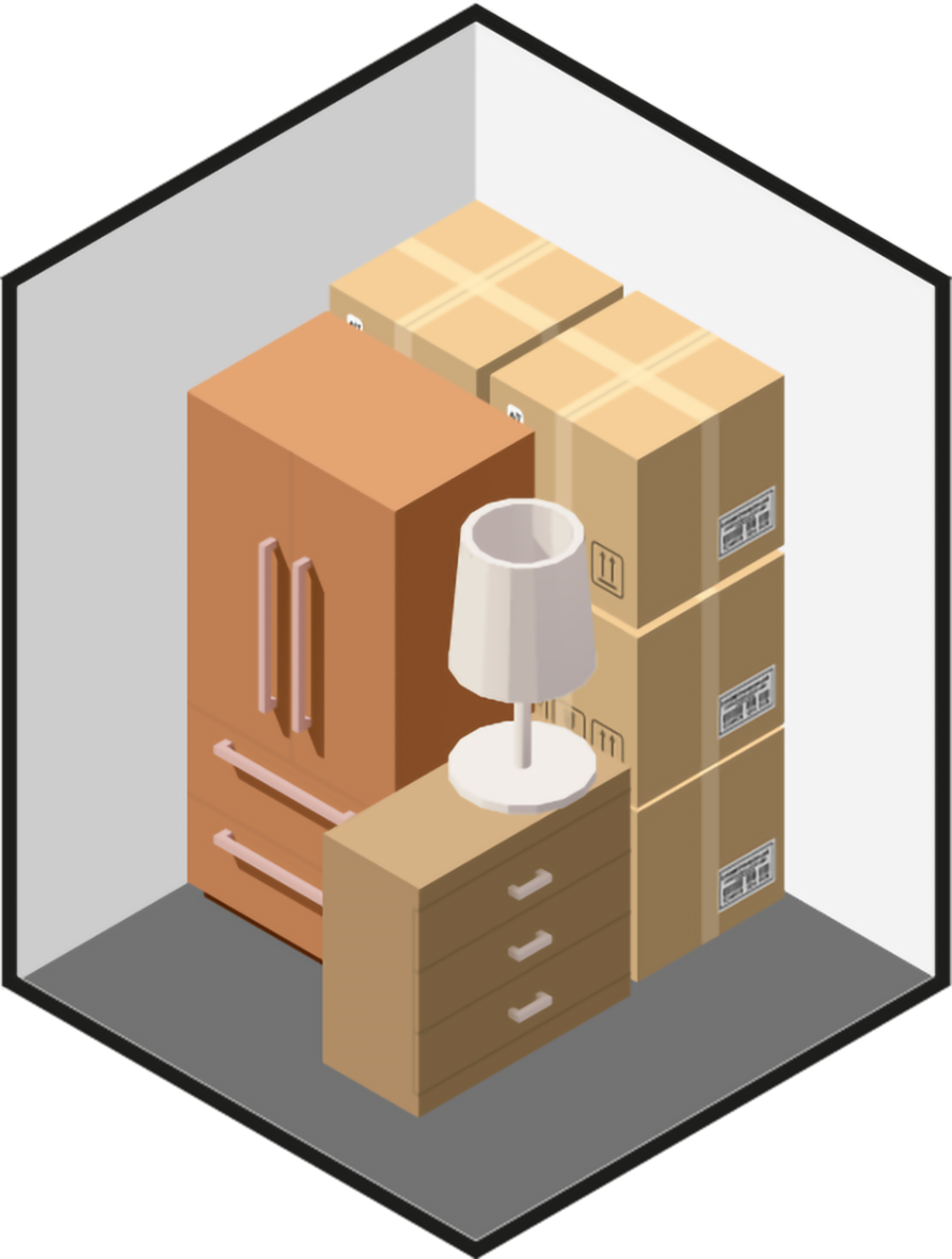 5 x 5
The 5 x 5 storage unit is like a small closet. It can store quite a few objects and even medium-sized furniture items when correctly positioned. It sits at 25 square feet. It is the perfect size for people needing to store multiple boxes of miscellaneous items.


5 x 10
The 5 x 10 storage unit is double the size of the 5 x 5 unit. It can store an entire room of furniture and boxes at 50 square feet. This size unit is often used by businesses to store documents and unused equipment.


10 x 10
The 10 x 10 storage unit yields a total of 100 square feet. This size is great for people needing more space than the average tenant. It can hold up to two full rooms of items and furniture and would be similar to having a storage shed.


10 x 15
The 10 x 15 space covers 150 square feet. For items that are awkward to store—like long couches or pianos—this space can accommodate for those larger items. We consider this space "huge," and it would fit everything short of a truck.


10 x 20
The 10 x 20 has a total of 200 square feet. This space should fit an entire house worth of belongings. It's estimated to fit five full bedrooms in this space.


10 x 30
The largest of the storage units, the 300 square feet unit can fit any vehicle, including boats and then more.


10 x 40
Some of our locations offer an even larger 10 x 40 unit, which can fit anything you need.
In the rare event that something like a tornado or hurricane winds cause damage to someone's belongings in a storage unit, we require that tenants have storage unit insurance. While those events are rare and precautions are taken to make sure nothing happens, unexpected disasters can happen.

Homeowners' insurance can cover your belongings, but they would be considered "off-site" in most cases. That means the storage unit would have its own premiums and deductibles through your existing insurance provider. It's possible to go through another insurance provider (other than your homeowners insurance) to cover your belongings.

For example:
Sally needs a storage unit, but the deductible for her current insurance coverage (for things "off-site") is $2,500. Sally may not even have $2,500 worth of belongings in the storage unit, so the insurance would virtually be covering none of the expenses.

At Your Extended Attic, we offer a second-party insurance,
Storsmart Insurance
, with a premium of $11/month to cover your belongings. For the convenience of customers, we'll just add the $11 to your monthly bill in an itemized receipt, should you opt-in.
Find What's Right For You & Verify Your Insurance Plans
Always verify with your current insurance provider before getting into an additional plan. Storsmart will most likely save you money, but double-check with your insurance agent to make sure you're doing the right thing for your belongings and budget.
Because we offer self-storage, you're given access to the storage unit facility with your own key and access code. No matter what time of day it is, you're able to come and go to your belongings as you please. You can access your unit 24 hours a day.
Your Extended Attic provides security, access, and reassurance. We're proud to have created a community of confidence in storage for our staff and our tenants.

Store your things with peace of mind.